UltraWeb Marketing has established itself as a premiere eCommerce Website Design Company.  UltraWeb Marketing has extensive experience helping national companies with all of their eCommerce needs.  When selecting the proper eCommerce website design company make sure they have proven successes from within their portfolio.  At UltraWeb Marketing we have many national successes for eCommerce websites combined with great SEO (Search Engine Optimization).  Having a nice looking site with eCommerce functionality is the first step to making the cash register sing and ding regularly.  Security Camera King does over $600,000 a month in online sales.  They have effectively been using one of our most aggressive SEO plans for over 7 years.   
Most local web design companies can design a compelling website but having full eCommerce functionality is the tricky part.  Does the new eCommerce website have real time shipping?  Is your payment gateway setup properly?  You might already have an existing merchant account for your business in place.  Making sure these existing parties can accept credit card and electronic checks via your new eCommerce site is crucial.  An online merchant gateway is different from how you accept payments at a brick and mortar retail establishment or a business at a warehouse.  UltraWeb Marketing will help guide you through the process of choosing a reputable payment gateway (Authorize.net, Stripe, PayPal, Amazon Payments, SecurePay, 2CheckOut, First Data Corporation, BluePay Processing,  Pay Simple, Fast Charge, Pay Nova, ChronoPay).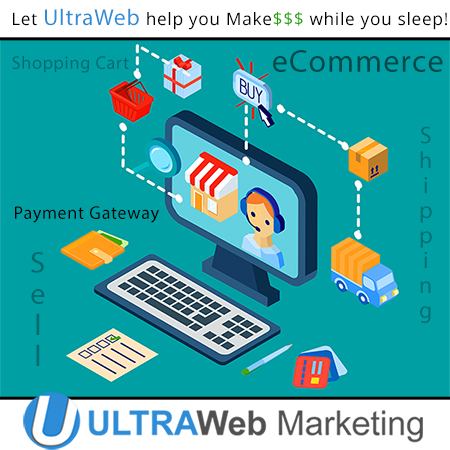 There are just as many ecommerce platforms from which you can choose (WooCommerce, Drupal Commerce, Joomla, OpenCart, ZenCart, Shopify, Yahoo Store, Google Shopping, BigCommerce, Volusion, osCommerce, Zepo, Kartrocket).  We can work with all eCommerce platforms but highly recommend WooCommerce a WordPress based solution.  At UltraWeb Marketing we highly recommend WooCommerce as it is highly flexible and can be scaled in just about any direction.  WordPress and WooCommerce has a community with thousands of open source developers working together to easily deliver the best eCommerce platform available on the market today.
Having a positive ROI (return on investment) is a key factor in all websites that we design.  At UltraWeb Marketing we do extensive monthly reporting that will encompass every bit of your website's eCommerce marketing efforts.  Ongoing SEO is the only way to get your website on the first page of Google organically.  Organic SEO takes more time and effort but once your site makes it to the top of the search engines for your main industry search terms, the phones will start ringing more and more each day.  This longer lasting effect on organic SEO will comfortably strengthen your ROI in a clear cut manner that is discernable and apparent in analytics and conversions.
PPC (Pay Per Click) is a great alternative while waiting for your ongoing SEO to gain some immediate momentum.  Pay Per Click can help your website get on the first page of Google over nite.  This rapid get conversions instantaneously SEO method has become a necessary component for explosive growth.  Even after your ongoing organic SEO has proven successful it is hard to just stop with PPC because it to can be done is a positive manner when done correctly.
Ask yourself a few questions when looking for an eCommerce Website Design Company.  Keep in mind that their are multiple descent boca raton web design firms from which to choose.  Do they have a proven track record with a portfolio that show nation seo success in addition to local seo results?  Does this particular eCommerce website design company use responsive web design and mobile friendly web design techniques?  Do they use white hat seo techniques?  Will this eCommerce website design company know how to get my website on google first page?
If you have any questions concerning hiring a eCommerce website design company give UltraWeb Marketing a call.  We will perform a FREE seo audit of your current website.  We will also take the time to show you many different case studies of proven eCommerce website in depth from our portfolio.  There is no secrecy with our methods as we strictly adhere to Google Webmaster Guidelines for proven results.
eCommerce Website Design Company
1,777 total views, 2 views today