How To Get Google Reviews For My Business? More than half of web users today search out your online reputation via reviews on popular platforms. Obviously, Google is the A-1 choice and most widely recognized search engine platform that users engage before they decide to make a purchase or consider utilizing one of your services. When you have great online reviews it will not only bolster your consumers confidence but it will also increase your search engine visibility. Google's Search Algorithm has always been shrouded in secrecy but one thing has always been known and that is they place a huge emphasis on user experience. User experience is largely measured by their own reviews and platforms.
This is why UltraWeb Marketing decided to develop Review Stream. Review Stream is a highly successful Google review tool that answers the question – How To Get Google Reviews For My Business. We have simplified the way in which you can request reviews from Google, Yelp, Facebook, and to also produce testimonies for your website with a simple button click.  
You can watch this video to see how the Review Stream process works. Initially, you will hit the 'Request New Review' button before you select the search engine and social channels you wish to engage for reviews. For this example, we will select all of the options available before sending the review request to the client. You have the option to add a customer name and company if you choose too. We have predefined email templates that can be full customized to meet your needs. These email templates are ready to go out of the box and all you have to do is click the Send Review Request button and your review request will be sent.
As soon as your customer receives the review request email, they will only need to click on the Leave Us A Review button. They then choose the appropriate channel where they would like to leave the review, Google, Facebook, Yelp or your website. Then the user is taken straight to the review screen. All they have to do now is pick a star rating and write a brief review. This is how Review Stream answers the question – How to get Google Reviews for my Business.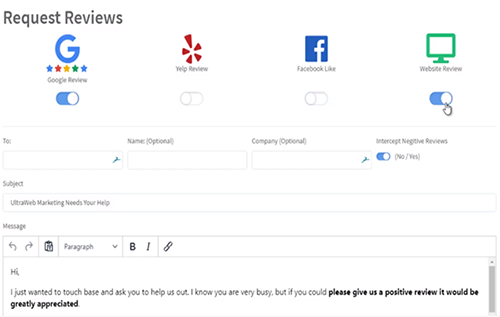 As soon as they have left you a review, you will get a notification from Review Stream that a review has been left and it will then show up on the Review Stream dashboard. You will also receive notifications about any review request which are still outstanding. One of the most powerful features of Review Stream is its ability to intercept negative reviews via the Intercept Negative Review feature. Review Stream captures all negative reviews in our database and alerts you immediately. This allows you to correspond quickly with the unsatisfied customer in a timely manner. The Intercept Negative Review feature keeps the negative review from going public. You can also set up an email template that allows you to respond to customers whose experience was not up to their satisfaction. Many times a disgruntled customer just wants to be heard and know that you will do better next time or perhaps offer a discount. This crucial dialogue with the customer also allows you to find out more about what went wrong so you can adjust accordingly and avoid these types of negative situations in the future.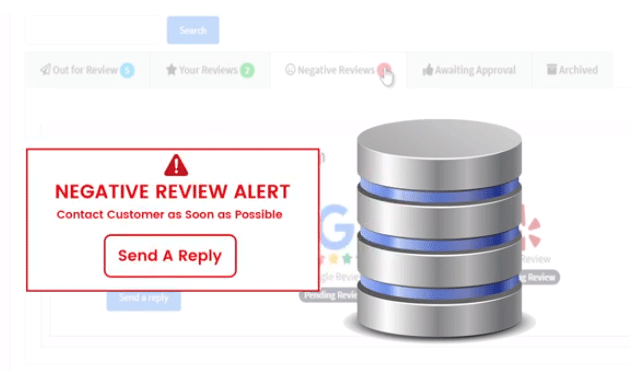 Review Stream is a powerful tool that makes it easier to connect with your customers, cultivate positive reviews, and generate website testimonials. Review Stream also allows you the ability to intercept and combat negative reviews before they ever go public.
For more information please give us a call today. 800-835-6759
Facebook | Twitter | Google+ | YouTube | Pinterest | Instagram
Call UltraWeb Marketing today if your business is looking to find out more about our Google Reviews For My Business.
How To Get Google Reviews For My Business
Related Post
2,531 total views, 2 views today