The Delray Beach SEO company you need should have the experience to know how to handle all your online marketing needs. Search engine optimization isn't just a passive strategy. A successful SEO marketing plan puts your website to work for you.
Local SEO. National SEO. Organic SEO. Paid SEO. They are all about one thing – using the world wide web as an asset to accomplish your ambitions. Without SEO, your business gives up countless opportunities that instead line the pockets of your competitors.
Simply put, the enormous amount of people looking for you online can't find your business without SEO. Whether you offer a product or a service, the only way to succeed is to let people know that you're there!
Fortunately, there's a Delray Beach SEO company that knows just what to do (with evidence to back up any promises). UltraWeb Marketing is an experienced Delray Beach SEO company that can handle all your online marketing needs.
Contact our team today to discuss how we can get you to rank high in major search engines for keyword terms unique to your industry. Fill out our contact form to get a free quote for SEO services that meet your needs or simply call 800-835-6759 to schedule an appointment soon.
Why You Need SEO
Maybe you don't know if you need professional SEO services just yet. That's okay. Many successful businesses got that way before the internet. What makes it different now? Let's explore why SEO is now a necessity to succeed in the business world.
According to Search Engine Statistics, there were over 100 billion searches on Google alone each month in 2017. But that's not even all of them! Google actually only holds roughly 75% of the total search engine market. Other prominent leaders include Yahoo, Bing, and Baidu.

The major shift taking place now is the rise in local SEO mobile searches. There are two things that are important to note here. First, local SEO results are different than national SEO results. Why? Because Google believes you are looking for something specific based on your location.
Second, the total number of searches are now overtaking the total number of searches on computers. So, if you don't have a mobile-friendly web design that is fully optimized for mobile searches, you're missing out on a significant amount of traffic.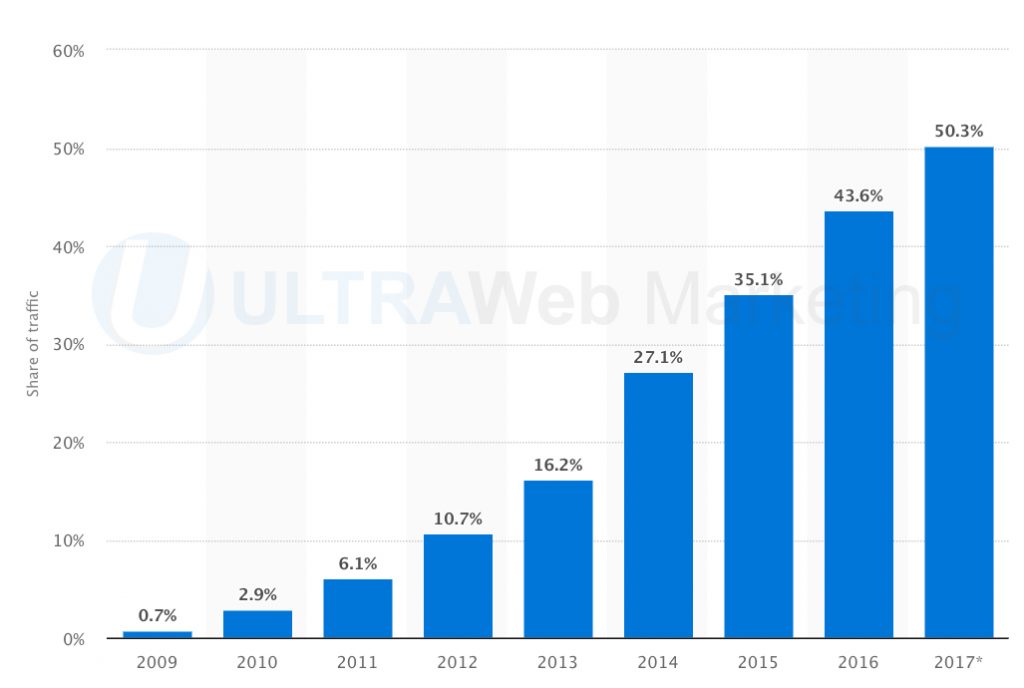 Another thing to keep in mind about hiring a Delray Beach SEO company is their knowledge of both paid SEO and organic SEO. PPC advertising is a huge market that can get your business out there fast. However, while the overall amount of spending on PPC ads has gone up, the amount of people clicking the ads has gone down.
Without an experienced Delray Beach SEO service that knows how to build campaigns that don't exhaust your budget AND resources to build your organic SEO rankings, you're just wasting money. Developing an integrated SEO strategy that combines all these methods is the best way to make SEO an asset that works for you.
A Delray Beach SEO Company You Can Trust
UltraWeb Marketing is a Delray Beach SEO company that knows how to help our clients achieve growth and success. Our clients include small businesses in South Florida, local businesses across the country, major online retail stores with six-figure monthly revenue streams, and more.
Our team consists of talented SEO experts who know how to develop a personalized SEO strategy from the ground up. We make the most out of your paid advertising budget while implementing an organic SEO plan that works.
This gives you high search rankings in Google naturally, permitting you to reduce or reallocate your budget elsewhere. Small or large, our SEO plans and packages are designed to meet the needs of any size business or brand.
Contact our team today to get started on making an SEO strategy that works for you. Or come to pay us a visit in person for a free SEO consult!
Facebook | Twitter | Google+ | YouTube | Pinterest | Instagram
Delray Beach SEO Company
2,761 total views, 4 views today