Revolutionize Your Brand • Capture Your Audience • Grow Your Business • Web Design Near Me by UltraWeb Marketing is a digital marketing agency that creates incredible and highly compelling digital storefronts that better connect with your existing and new customers.
Web Design
Many times your website gives a visitor its first impression of your company. Having a beautiful digital storefront that can be seen by those looking for your services gives you a leg up on the competition. A credible website lends credence that your company is presentable and professional. In this modern era, it is so important to have an up to date and presentable website.
Build customer trust with an elegant and inviting storefront that conveys your companies core values and services. This communicates to the customer – "Hey, I think I have come to the right place". They have the service and need and look very reputable. On the other side of the coin is a poorly constructed or out of date website. Think of a dilapidated or run down building that signals a negative feeling. 
If a potential customer doesn't trust your website you have lost the most important battle upfront and that client will probably click away. We offer a variety of online marketing services that are crucial to building customer trust online.
Digital Marketing
The days of the yellow pages are almost extinct minus a few hotel rooms. Today you have the opportunity previous generations didn't enjoy. Instead of just wishing and hoping that new customers will find you, you now have the chance to seek out and build your audience with the ever expanding social media world.
Everyone knows how important social media marketing is in today's highly competitive and sometimes overcrowded marketplace. The potential to grow your reach, attract new clients, and increase profits can be done with professional social media experts. All online marketing requires a great deal of effort that takes time most of don't have while trying to run a business. Let UltraWeb Marketing handle all of the painstaking work for you.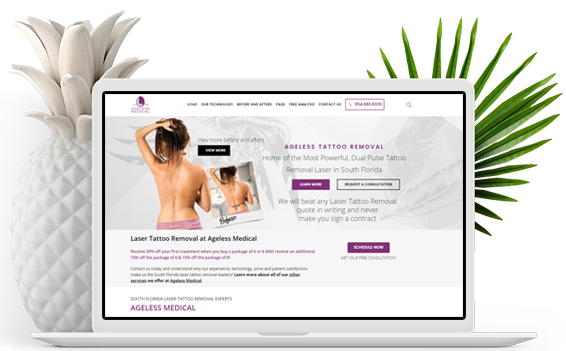 SEO
In today's uber competitive online landscape, Search Engine Optimization (SEO) is more important than ever. Millions and millions of people use search engines every day when they are looking for a particular product or service. A strong SEO foundation should be implemented on your website so that it can assist ongoing SEO efforts down the road. Many website owners and designers make the mistake of not employing an SEO foundation up front. Owners don't know and some web designers are just lazy as Google gives you the best SEO principles in their Webmaster Guidelines. 
Each of our SEO packages is designed to grow your business month over month helping with meeting your business objectives and goals. Smaller SEO packages are designed to get increased exposure in your local market to the larger SEO packages designed for those with a nationwide clientele. Our parent company is the latter and does over twenty million dollars annually in online sales with thousands of resellers in their dealer network. UltraWeb Marketing was born out of the marketing department for Security Camera King. Let us help you boost your digital presence today.
Identity & Branding
From the initial concept all the way to fruition we will work closely with you along the whole timeline. We can even help you rebuild your brand into something that you are extremely proud to show off to your clients.
Our talented staff is comprised  from a deep pool of digital marketing experts from artist, video production, digital and more. The fusion of creative with digital marketing experts who focus on the client side is sure to increase your online visibility in a positive manner. We are a passionate group of digital builders that transform the digital landscape with attractive web designs that showcase your brand and identity. Want to know more about how we work, what are our processes, and our expectations?
UltraWeb Marketing works with a variety of industries and platforms. Whether a large organization, small or large company, startups and individuals we can create a website that wows your visitors with web design near me.
Facebook | Twitter | YouTube | Pinterest | Instagram
Web Design Near Me
Web Design, Digital Marketing & Mobile Apps to
IGNITE YOUR BRAND
UltraWeb Marketing is a full service South Florida based online marketing agency serving clients all throughout the United States. We blend proven strategy, grasp the latest technologies and implement web designs with a WOW factors.
Get the web design your business deserves!
Let us help you guide your brands digital future while delivering a compelling message to your target audience.
From WordPress Web Design, App Development, Custom Software, SEO (Search Engine Optimization), Social Media Management, Google Ads PPC (Pay Per Click), eCommerce, Email Marketing, Photography, Video Production, Content Writing Services, and prepaid marketing support packages.
Our online marketing solutions will help with increasing your brands search engine visibility. We do not just build a website, we create compelling digital experience unique to your brands identity and offerings.
Boost your businesses search engine presence by specifically targeting your desired audience. Improve ROI and drive engagement with our online digital marketing plans. UltraWeb Marketing offers an integrated solutions that can be tailored to meet any of your desired audiences whether through organic SEO, PPC (pay per click), Social Media to drive pre qualified traffic that is more likely to convert into a customer with our web design near me service.
1,508 total views, 2 views today