Don't Skimp Out!
When people think resorts they think ultimate relaxation! When customers are choosing which resort they'll be staying at 100% of the time that choice is based off a website. They visit your website and browse looking at pictures and videos and even reading reviews. That first impression is where customers decide whether they'll be staying at your resort or not. A good Resort website design has to be tailor made to bring you clients.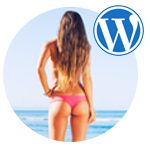 To WordPress or not to WordPress?
Is WordPress the right platform for your resort website design? Here at UltraWeb we love WordPress and so does 40% of the internet. That's right 40% of websites use WordPress as their platform! WordPress is going to give you all of the power and security you need to run your website. With powerful e-commerce tools you can book rooms right from your website and easily accept payment! All of our sites can be customized, no matter the need we can get it done for YOU!

Choosing A Company For Your Resort Website Design
When choosing a web design company you need to take into account a few factors. What are this company's limitations are they going to be able to deliver the product they promised, look at their portfolio to make sure what they say is congruent to what they promise. Make sure they aren't underbidding you, of course, you want a good price, but sometimes web designers quote too low and then deliver a poor product in order to cover their cost. Make sure that the company you choose is a team, UltraWeb is not just a guy in his underwear doing your website. We have a full staff of web designers, content writers, videographers, photographers, and social media specialist ready to work for your website!
Get in touch with UltraWeb marketing let us discuss your Attorney Website Design
We service may different industries. Let discuss your objectives and goals for your new website design. Feel free to stop by our offices we look forward to hearing from you!
Search Engine Optimization
Logo Brand/Identity
eCommerce Development
WordPress Development
Content Article Writing
Social Media Management
Need a professional website?
Don't hesitate to call
800.835.6759