One of the most important local SEO steps out of the gate is making sure you are listing on the major search engines Maps. Not only should you be their maps but you will also need to properly configure your Business listing. Most major search engine platforms have advanced functionality for setting up your new business listing. Hiring a Local Search Marketing Company will help make sure that it is done properly.
Most local companies offer their goods or services in specific areas and regions. Over thirty percent of searches contain some sort of geographic term when an end user is querying a search engine for a service. A great example for UltraWeb Marketing would be "web design" and then their specific location. Combing the keywords and geographic city creates a compound search " web design boca raton ". Being a top rated Local Search Marketing Company we proudly find our website on the first page of Google and the top organic result overall.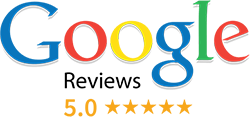 Having a great organic presence in addition to a business listing is crucial for getting more phone calls. Developing leads and getting better conversion rates by qualifying those that are searching will reduce wasted time on your part and the person searching. Investing in local search up front will help with sustained overall search presence. When hiring a Local Search Marketing Company, you should look at a few key areas. Success not only for themselves but their clients is key. Also how do their clients view them, testimonials and reviews always tell a great store. Please take a look at UltraWeb Marketing Google Reviews.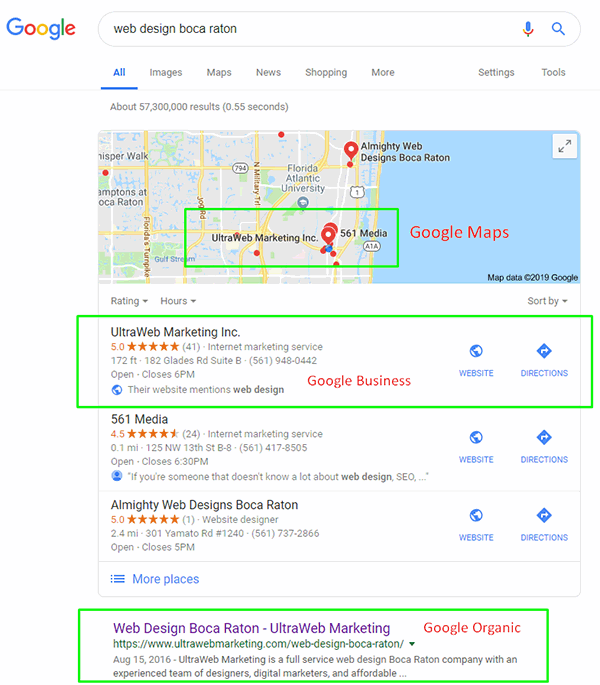 Call us today to find out how you company or business can have local search results triggered for your main industry search terms. The right Local Search Marketing Company should always generate positive marketing results. Having the right Local Search Marketing Company manage and prioritize your local search efforts will always be the most effective solution cost and leadwise. To the average business owner local search appears basic at first  glance but their is far more that must be done then just getting your address verified.
Having Content On Your Website That Relates To Web Queries And Your Services

Choosing The Right Categories (Primary, Secondary, etc…)
Posting Content To Your Business Listing
Adding Photos (Logo, Building, Exterior, Interior, Products, 360 View and more)
Do You Offer Goods At Your Location Or Do You Have Retail Address
Target Area Whether A Search Radius Or Physical Location
More Than One Location
Managing Review And Encouraging Them
Messaging
Scheduling Appointments
Creating Discounts Or Deals
Multiple Locations
Linking Website
Everyone knows that Google is king and omnipresent when it comes to the major search engine landscape. UltraWeb Marketing is proud to be a Certified Google Partner and the top Local Search Marketing Company in the area. Our local search process begins with getting verified and listed on Google first and moving on to the other leading search platforms. Having your local listing accurate, claimed, verified and being optimized is the most important.
Why hire a Local Search Marketing Company? Over seventy percent of people look online for local products and services. This number will continue to grow as mobile usage is skyrocketing every day. The importance of local search has never been higher and not hiring a reputable Local Search Marketing Company.
Call today and we will perform a FREE local search audit to see where you stand in your market and how we can help you gain a greater share.
Local Search Marketing Company